How Can You Take a Step Away from Caregiving for a Little While? 
It might seem unusual for a caregiver to step away from that job for a while, but the stress can be overwhelming. If you're approaching stress levels that are too high for you to cope with, consider taking a break from caregiving to allow yourself time to heal.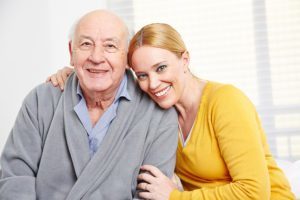 Accept that it's Okay to Need Some Time Away 
Making a decision like this is bound to come with a certain amount of guilt on your part. After all, you likely chose to be your elderly family member's family caregiver because you want the best for her. But you are a human-being and your own needs can't be ignored forever. It's okay for you to need to take a step away, whether that's temporarily or permanently. 
Prepare Your Backup for the Job 
Realistically speaking, you can't simply drop your duties as a caregiver and wash your hands of the situation. You need to have a backup plan in place and you need to give that person or group the information they need in order to do the job properly. Your backup might be another family member or even home care providers that you prepare for the task. 
Make a Practice Run or Two 
You'll want to give your backup plan a test run or two before you hand over the reins entirely. Take an afternoon away for a time or two and make sure that everything runs smoothly in your absence. This can also help you to assuage any lingering guilt. Your aging family member will be fine and having a chance to see that for yourself can help you to make the decision much more readily. 
Take the Time that You Need 
Once everything is in place, go ahead and take the time that you need. Stepping back from caregiving doesn't mean that you're never going to speak to your elderly family member or care about what happens to her, of course. Make plans to check in regularly and do so at a pace that helps you to do what you need to do. 
Just because you're taking some time away from being a family caregiver, that doesn't mean that you're walking away forever. Knowing that you can go back when you're ready gives you the space to heal. 
If you are considering hiring a professional caregiver to give the family caregiver in Highland UT a break, please talk to the friendly staff at December Rose Senior Care at Home. Providing Home Care in Highland, Utah and Surrounding Communities. 801-427-ROSE (7673)

December Rose Senior Care is a local in-home care agency owned and operated by Alan and Stephanie Jones in Highland, Utah. While both Alan and Stephanie bring professional and practical experience to their business, it has been the fulfilling and educational aspects of assisting their parents through the aging process as well as raising their five children that encouraged them to start a personal care agency. In particular it was the humbling experience of caring for a special needs son and moving a parent from in-home care to assisted living that helped them realize there are many families who are caring for loved ones that need help. Their desire is to combine these experiences with over twenty years of medical sales and marketing, eleven years working with senior and elder populations among our Veterans and Native Americans, serving on multiple school boards and local legislative roles, to develop in-home care that exceeds expectations and honors seniors as the foundation of this country.
In their spare time, Alan and Stephanie are all about family and enjoy So. California beach vacations, watching their children's sporting events, reading, participating in church and community activities, watching favorite shows together, participating in Boy Scouts, running and yoga.
Latest posts by Alan and Stephanie Jones, Owners (see all)