December Rose Senior Care at Home ~ Rake And Run Service Project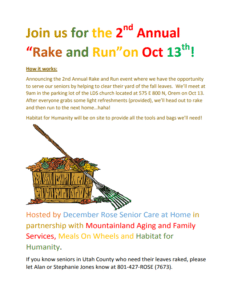 Hello Friends – what a great (and hot) summer we've had and I'm sure we're all looking forward to some cooler weather right around the corner!
Along with the drop in temperature comes the dropping of leaves from their trees and this can present a challenge to many of our seniors. That's why December Rose Senior Care at Home started the Rake and Run service project…to help seniors get their yards cleared of all those leaves.
Please join us for the 2nd Annual Rake and Run on October 13th and serve our wonderful seniors!
Click here for more details:   2nd Annual Rake and Run
Thank you!
Alan & Stephanie
December Rose Senior Care at Home ~ 801-427-ROSE (7673)
Providing Home Care in Highland, Utah and Surrounding Communities.

December Rose Senior Care is a local in-home care agency owned and operated by Alan and Stephanie Jones in Highland, Utah. While both Alan and Stephanie bring professional and practical experience to their business, it has been the fulfilling and educational aspects of assisting their parents through the aging process as well as raising their five children that encouraged them to start a personal care agency. In particular it was the humbling experience of caring for a special needs son and moving a parent from in-home care to assisted living that helped them realize there are many families who are caring for loved ones that need help. Their desire is to combine these experiences with over twenty years of medical sales and marketing, eleven years working with senior and elder populations among our Veterans and Native Americans, serving on multiple school boards and local legislative roles, to develop in-home care that exceeds expectations and honors seniors as the foundation of this country.
In their spare time, Alan and Stephanie are all about family and enjoy So. California beach vacations, watching their children's sporting events, reading, participating in church and community activities, watching favorite shows together, participating in Boy Scouts, running and yoga.
Latest posts by Alan and Stephanie Jones, Owners (see all)